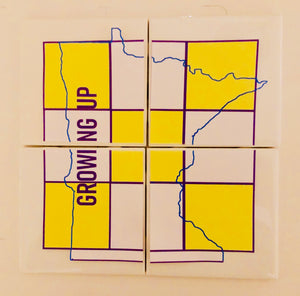 Here is some Functional Art from the great state of Minnesota! Colorful and attractive  4 1/4" square ceramic coasters add fun to function.
Everyone has played tic-tac-toe.... now play while cooking your favorite Hotdish! Simply combine the coasters to create the state of Minnesota, once set, a game board is outlined for play (game tokens provided).
When dinner is served, use the heat resistant coasters for a streaming cup of coffee or yummy hot chocolate. Don't worry, the coasters have a cork back to protect your table top from scratches. 
These coasters make a great housewarming present and are also perfect for the office or the cabin. Get a set today!